Email Service Providers (ESP) can significantly improve deliverability of email sent from your MODX projects—they don't end up in spam folders or get blocked by major webmail providers. ESPs also provide deliverability statistics (so you know your messages were actually sent) and bounce handling.
Configuring MODX to use an ESP is straightforward to set up from your Cloud website's MODX Manager.
Before you start you will need an account with an ESP. Most ESPs offer a free tier that allows you to send 1000s or more emails per month, which should be adequate for many sites' transaction emails like registration confirmation emails and receipts. Some of the more popular ones include Mandrill (requires paid Mailchimp Account), SendGrid, Postmark, Mailgun, Mailjet and Amazon SES.
If you are already signed up, you need the following information from your ESP before proceeding to configure MODX to send email via the ESP:
SMTP Server Address
Username (sometimes the API key)
Password (often a unique API key)
Optional: port number and protocol prefix
Login into the MODX Manager where you wish to add an ESP to for email delivery.

At the top right of the MODX Manager, click/hover on the cog icon to reveal the menu.

From the cog menu, click on System Settings and you'll be taken to a page with a grid of various settings and their values.

In the field at the top right of the grid that has the placeholder text of Search by key… enter "SMTP" (without the quotation marks) as this will filter all the settings you need.

Complete the setup of your SMTP settings for your ESP as follows:

SMTP Authentication should be set to Yes
SMTP Password should be set to the password provided by your ESP
SMTP User should be set to the username provided by your ESP
SMTP Port should be set to the port provided by your ESP
SMTP Connection Prefix should be left blank or set to either ssl or tls depending on your ESPs settings. Typically this is tls (Google requires tls).
Use SMTP should be set to Yes

Here's a screenshot example using the information from Mandrill:
See the screenshots below for some of the more popular ESPs' settings.
Mandrill (requires paid MailChimp account)

**
SendGrid

Postmark

Mailgun

Mailjet

Amazon SES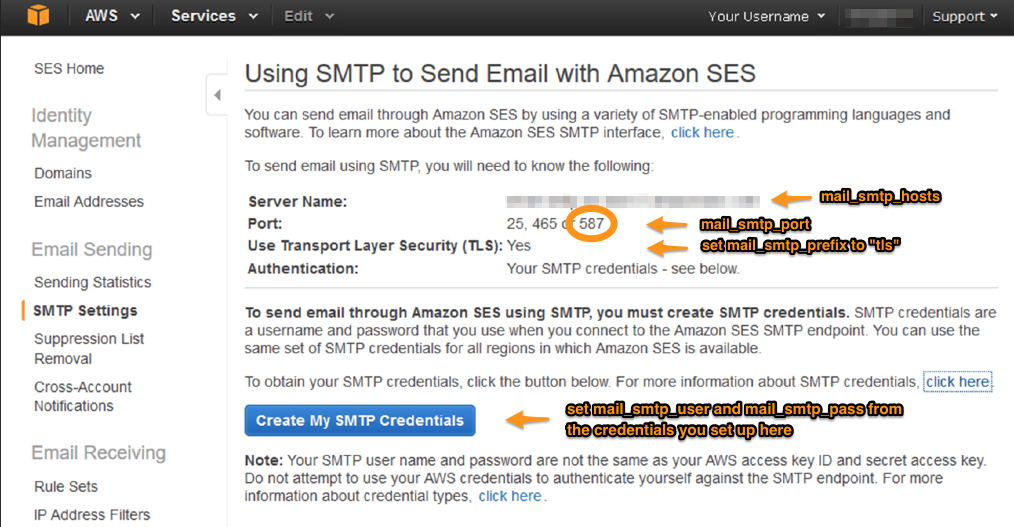 **